ROXspeedfx Bar Risers
ROXspeedFX offer innovative patented Pivoting Risers, Height Adjustable Risers, anti-vibe risers + more. Their goal is to improve your riding experience through increased control, comfort and confidence. CLICK ON THE LOGO below for their fitment chart.
PRODUCTION PROBLEMS @ RoxSpeedFX affecting AUS Stocks!
We are currently and have been for the last few weeks, having difficulty in getting fresh riser stock from the USA. This is due to equipment failures at RoXSpeedfx's plant AND the fact that they are also shifting into seasonal production for their Snowmobile lines!
They have updated us on these delay's (1Nov) and passed on their apologies to AUS riders.

IF an item on our webshop is in shown as "in stock", it can be delivered by us straight away! If it shows "backorder" we may be getting some more in shortly (some orders are still in route to AUS). Else we don't expect stock to arrive for some items like P2SSN etc until early-mid DEC18. Need to know more Ring Ron for an update. An item can be backordered from us by placing an online order but not paying, this means your oder will be filled first when stocks come in.
We will ring you for payment when your item is available to ship from our warehouse!
Sorry but this matter is beyond M.A.Ps control!

<- click here for fitment chart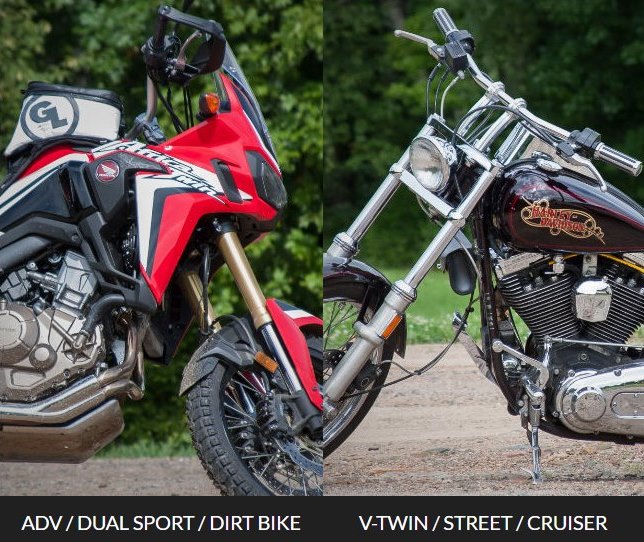 When deciding which Riser best suits your bike, start with the handlebar dimension at the triple tree clamp as we 7/8" (22mm) 1&1/8" (28mm) and 1&1/4" (32mm) sizers. Generally our pivoting risers give 2" (~50mm) of rise but we also offer selected 3, 4 and 5" risers. The ROXspeedFX fitment chart is not exhaustive so if you cant find it here, call us!
Motorcycle Adventure Products are the Australian importer of ROXSpeedfx risers, from our own & our customer experience. We have amassed some extra fitting info that we will share on our support page. Meanwhile another way to identify a riser solution is to use the Find Your Bike selection tool above. When we know what works on a bike we will add it.
---