All Purpose Commercial Stretch Straps
This category is empty! Please try another category or use our search function to find what you are looking for. If you require further assistance please contact us.
Formerly called "Contractor Grade", ROK All Purpose straps share the same basic construction utilising a proprietry stretch natural rubber core that is UV and marine resistant which is then sheathed with a tough UV polyester outer brading. Available in the traditional Black with blue/green stripes or the versatile Jungle Camo colour. Our ALL PURPOSE straps come in fixed or adjustable lengths, two grades of core and have fully stitched re-inforced hook ends. The smooth double shank steel hook ends are plastic coated to offer both strength and a fair degree of safety in use, they also assist in avoiding scratching.
All Purpose straps come in 2 grades, heavy duty - 25mm core and medium duty - 20mm core.
They are great piece of gear for professionals, tradies, DIY, 4X4 loads, canoes, boards perfect for securing loose loads and much more!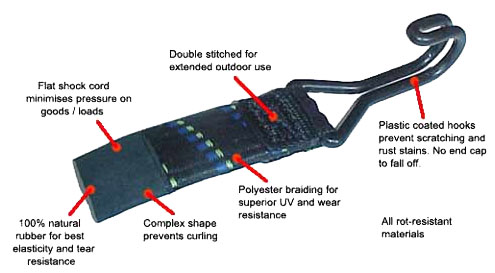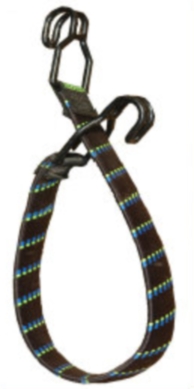 Our Fixed Length straps can stretch approximately 30% so it pays to know your needs when choosing. Our (non-stretched) lengths include 300, 450, 600, 700, 900 and 1200 mm aka 12, 18, 24, 30, 36, 48 and 60 inches and come in both medium duty 20mm (3/4") or heavy duty 25mm (1") cores.



Our Adjustable Length straps feature two piece construction with a sturdy adjustable connector buckle. All have the same one piece stretch 300 x 25mm core section, the second piece is a length of tough polyester webbing strap. So our adjustable straps features the same minumin length of 500 mm and come with webbing to achieve 1500, 3000 or 4500mm lenghts. ie. 500-1500, 500-3000, 500-4500mm by pulling through the adjuster buckle.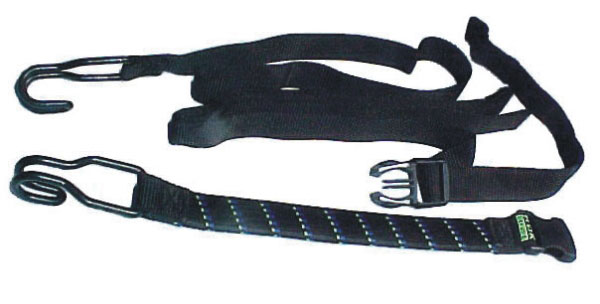 Our All Purpose Straps come in BLACK with Blue-Green twist sheaths !
WELCOME TO ROK™ STRAPS THE WORLD LEADER IN TOUGHT AND SAFE STRAPS
Developed over twenty years to military specifications, ROK™ have become the market leading brand demanded by consumers & professionals alike.

ROK STRAPS are the Brainchild of an Australian engineer Gary McCay. During his university studies into eye injuries, Gary became aware of the utterly horrific number of serious eye injuries caused by elasticated cords and bungie straps.

Gary formed ROK STRAPS PTY Australia 25 years ago to design and manufacture safer straps using and new design of solid rubber shock-cord with a tight nylon outer braid . His innovative design has significantly less recoil if released under tension and ROK™ Hooks are designed to eliminate bending, breaking and sharp edges.

Our patented designs have inherently superior design qualities which make them safer, stronger, longer lasting as well as being quicker to use then other straps on the market.

ROK PRODUCTS are sold Worldwide in over 24 countries. ROK STRAPS are used by Professionals, Trades of all kinds as well as DIY USERS across a wide variety of applications ranging from Military hardware, general purpose tie downs, motorcycle and cycle straps as well as an impressive range of pet products. Over 5 Million units have been manufactured and sold in the past 3 years.