Legacy Heritage
Pirmassens in South-Western Germany was the home of the local leather industries. Craftsmanship and style are hallmarks of the region and thus with pride, Hepco & Becker presents their Legacy leather and fabric range of luggage and accessories!
Hand made in Germany!


Legacy - this is the authentic style for you and your motorcycle. Credible. Honest. Simplistic. The design arose from the experiences of a long past, implemented with sustainable materials for the future.
Legacy - this is far more than just a piece of luggage, far more than a bag or a suitcase, this is a philosophy, a way of life that shows who you are!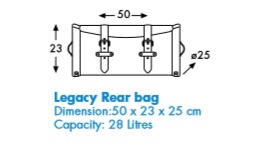 ---